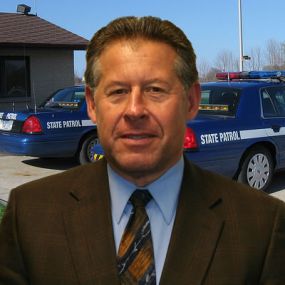 David J. Pichette
Senior Consultant/Investigator
•National Incident Management System
•Incident Command System
•Critical Incident Management
•Emergency Plans-Training Programs
•Certified Trainer and Instructor
Dave began his career as a Trooper with the Wisconsin State Patrol in 1980. He worked his way through the ranks, ultimately being promoted to Regional Commander in 2000, where he remained for ten years. While Regional Commander, Dave's responsibilities included authority over regional operations and statewide programs, including: policy development and Homeland Security Directives.

Dave's specialized emergency response training includes: Community Disaster Response Training, Advance Incident Command System/Unified Command Training and Command and General Staff Training. He is certified as an Emergency Management Master Exercise Practioner. Dave develops emergency plans and training programs for private industry.

Dave's emergency response experiences include: past chair of the State Committee for Civil Disturbance Response and Preparedness Initiatives, member of the State of Wisconsin, National Incident Management System (NIMS) Advisory Group, Technical Expert for the National Unified Goal-Planning Group, member of the Wisconsin Planning Group developing urban evacuation plans. He was the Incident Commander during the I43 traffic crash involving 70 vehicles, 10 fatalities, and 30 injuries; the Unified Incident Commander for the collapse of the Quad Graphics printing factory, the State Law Enforcement Safety Officer at the United States Conference of Mayors in 2002 and the State Law Enforcement Incident Commander at the 86th PGA National Championship in Haven Wisconsin, 2004.